Innovation for efficiency
Our CSD/CSDX series rotary screw compressors
with frequency converter now feature a synchronous
reluctance motor from Siemens for even greater efficiency.
WELCOME TO AGASTYA ENTERPRISES
Our Products
KAESER Products
Innovation meets efficiency
From the workshop to industrial plants, from the mine to the petroleum refinery: More and more customers throughout the world rely on Kaeser quality compressed air systems "Made in Germany" and benefit from optimum compressed air availability combined with low life-cycle costs.
Exceptional energy balance true to the KAESER motto of "More air, more savings..."
Time-saving maintenance and operation
Exceptional material quality and durability
Moreover, with its advanced logistics, the Kaeser Service Network ensures maximum operational reliability at all times wherever you may be.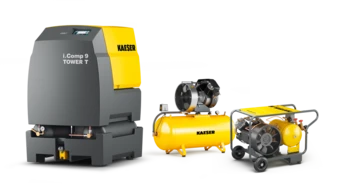 FREQUENTLY ASKED QUESTION
FAQ
What is compressed air made of
Compressed air is made of the same air you breathe in and out, but that air is compressed into a smaller size and kept under pressure. When you take atmospheric air and then physically force it into a smaller volume, the molecules take up less space and the air is compressed.
How is air compressed
Air is compressed in two simple steps:
Step 1: Air is trapped in a cylinder, tank, or similar container
Step 2: The space in that tank becomes smaller, which forces the air molecules closer together
The now-compressed air remains trapped in this smaller state, waiting to expand again, until it's ready for use.
What is compressed air used for
Compressed air can be used in one of two ways:
As an energy source
As blowing air ("active air")
When used as an energy source, compressed air can power air tools and production equipment. These tools and equipment are used in countless applications across dozens of industries, including construction, tire service, mechanical repair, maintenance, factory production, industrial processes, and vehicle safety systems. Even roller coasters use compressed air!
Now Time For Something New
KAESER KOMPRESSOREN provides products, services and complete systems for supplying production and work processes with quality compressed air.